| | |
| --- | --- |
| How to Buy Sex Toys Online Safely and Discreetly | |

There are no products to list in this category.

Sex toys have lost much of their stigma in a post-Fifty Shades world, but those on the hunt for a good vibrator or cock-ring might still have some trouble finding one at a Physical store. Thankfully, there are lots of great websites offering a wide variety of adult playthings,
Keep in mind when buying online is that there are certain types of material that you should avoid when buying toys that you plan on placing on or inside sensitive bodily areas. Therefore Sex Toys Online should give you a variety of Masterials, lot of options depends on your personal preferences
Let's begin:
1. You'll want to look for a padlock in the address bar. If you click on it, a dropdown box will open that will tell you security information about the site including:
Whether the certificate is valid
The number of cookies in use
Other site settings
A padlock in the address bar generally signifies that the site has been verified as secure (like Pleasuredome.se!).
2.Look for a Trust Seal If you see a trust seal or trust badge on a website, it's not just for decoration. Whether it's from the Better Business Bureau, PayPal or Google, trust seals tell users that they can make secure transactions.
3. Look for reliable contact information It allows customers to communicate directly with your business at any time, but more importantly, it can create a more personal relationship with the customer.
https://www.pleasuredome.se/contact_us.php
4. Discreet shipping and a lengthy reputation for being reliable a reputable site that has an upfront promise for discreet and speedy shipping.
5. Also has guides, tips, and educational materials so you can familiarize yourself with the types of items you're buying, as well as general sexual health information.
6. Website shares a lot of features, varieties, offers this only shows you that an an online store is diverse in offering you something new, it gives shoppers a very visible representation that they truly understand the market and have an access or resources on these product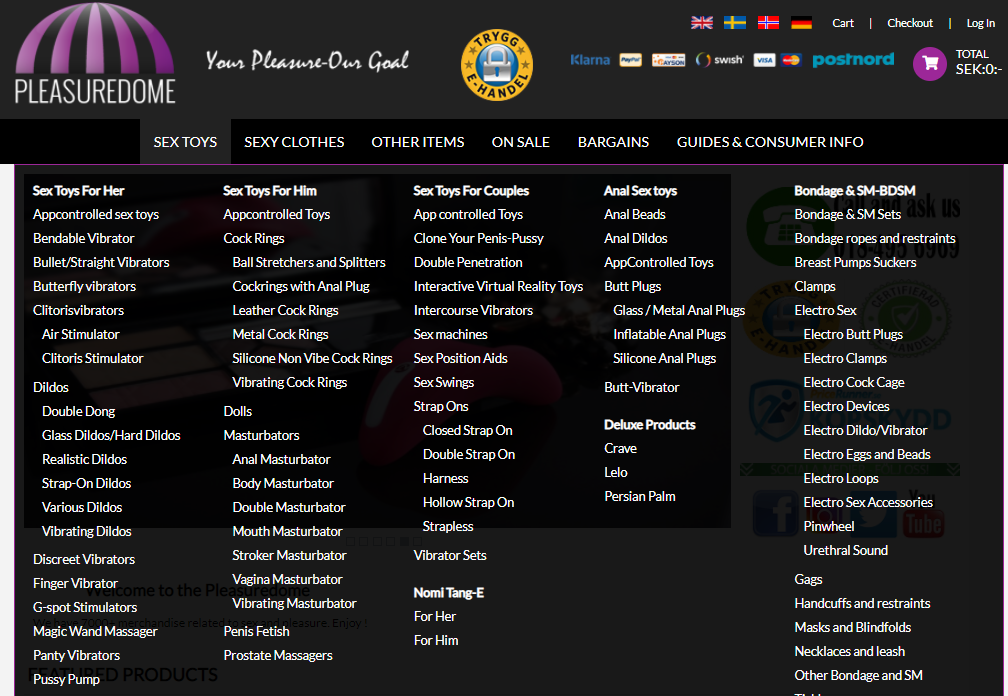 FINAL THOUGHT
When shopping online, remember always to heed cybersecurity warnings, and be cautious when you sense something isn't right.
We at Pleasuredome.se
Offers a vast selection of sex toys for men and women, from vibrators to penis pumps, bondage gear, and lingeriem cream, gel, pills and more. You'll even find different brands of condoms and sex capsules. If you're looking for the Fifty Shades of Grey line of sex toys, they have that too, from a bullet vibrator to nipple clamps and even Christian Grey's signature silver tie.