| | |
| --- | --- |
| BDSM-beginners guide for bondage | |

There are no products to list in this category.

Guide to bondage and BDSM
You've read about it or seen it on the big screen in films lie 50 shades of grey, but have you ever actually tried BDSM (short for bondage and discipline, dominance and submission and sadism and masochism)? This is one of those sexual activities that is so much fun, it'll leave you wondering why you never tried before! BDSM isn't for everyone, but it is something that many people are interested in. They're just not sure where to start. Fear not, because we've got the best BDSM for beginners advice around.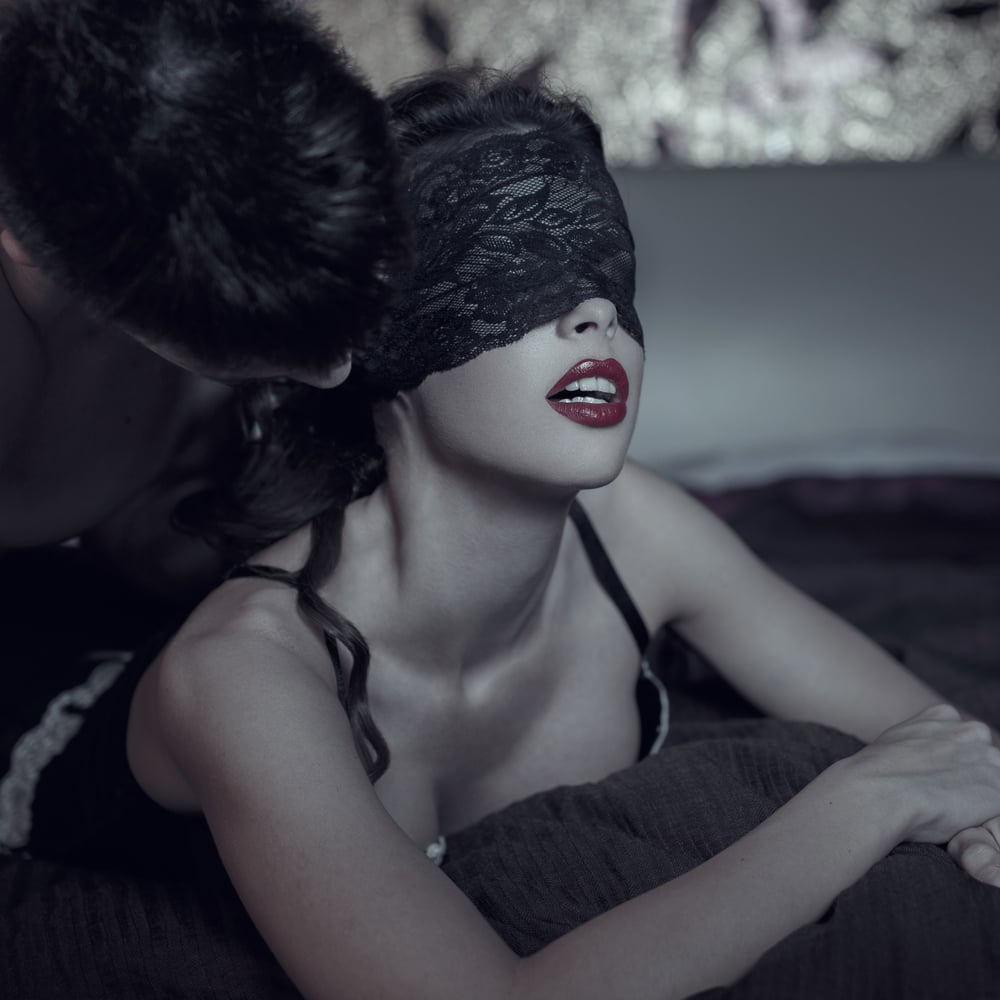 BDSM can seem a little intimidating to people, especially when you think of the most extreme activities, which could even include cutting the skin or branding. However, one of the awesome things about BDSM is how you can choose what works for you. Give something a try. If you don't like it, don't do it again. If you do like it, add it to your sexual routine. There are so many varieties of BDSM that there's a good chance you'll like at least one of those flavors, but it's best to start with BDSM for beginners.
WHAT'S GOOD BDSM FOR BEGINNERS?
What makes an activity good for someone who's new to BDSM? It's easy to understand and relatively safe. You don't want to start out playing with fire or knives, literally. But a blindfold is something you can easily add when you're having sex to up the ante in a safe way. If you're not proficient with knots, rope bondage isn't a good idea when you're just getting the hang of things.
You also don't have to rush off to the Pleasuredome and spend a lot of money on expensive leather goodies just to try out BDSM! Although there are many brands that make exquisite gear, you could be in for disappointment if you realize that you don't really like the sting of a cane. Creativity lets you explore elements of BDSM, and you might be surprised some of the items you can use for beginner's BDSM that you already own:
A spatula or spoon becomes a spanking implement

Scarves, ties or sleep masks become blindfolds (but these items are not good for tying someone up, more on that later!)

Clothespins can be used to clamp nipples or your clitoris

Knee-high boots make you look like a sexy dominatrix

You can tease and torture with a vibrating egg

Try ice to stimulate your man's skin
So on and so forth. But before you collect a pile of household goods that can be perverted for BDSM, let's talk about safety.
BEGINNER'S BDSM AND SAFETY
Safety is important when it comes to BDSM. You definitely don't want to engage with someone whom you don't trust physically and emotionally. So it's probably a good idea to stay away from breaking out the whip with a one night stand. And you don't want someone who might leave you in a compromising situation.
Even with a trustworthy partner, you'll want to take a few precautions because BDSM be physically and emotionally traumatizing. While you're unlikely to be doing things that could lead to injury or even death when you're just dipping your toe in the BDSM pool, you definitely want to be careful. In fact, the BDSM community is so aware of these precautions that there are not one but two acronyms about safety:
SSC: Safe, sane consensual
RACK: Risk, aware, consensual, kink
As you can see, both of these focus on consent, and we recommend against trying BDSM, no matter how tame, if you've been drinking.
A common tool used in BDSM is the safe word or phrase, which you can utter if you're becoming uncomfortable or need things to slow down. Typically, it's the bottom or submissive who says the safe word, but it's totally cool if you're playing dominant and you need things to stop or slow down. The green/yellow/red system works well. Just like traffic lights, it enables you to check in. A response of "green" indicates you can keep going. "Yellow" implies to slow down or decrease intensity but without entirely stopping. If you need your scene to end or at least pause temporarily, then say "Red."
You can pick your own safe words, but they should be relatively short and easy to remember. You don't want to struggle while you're being whipped. It's best to stay away from "Stop" or "No," which you might say during role play when you don't actually want to stop.
To ensure a positive experience, whoever is topping should actively check in with the submissive and always, always, always heed safe words. In some instances, such as if someone is gagged and unable to speak, a ball that can be dropped or a bell that can be rung works in place of a safe word.
There are other safety concerns aside from safe words. These include not using bonds that are too tight or could constrict when you struggle in them. This is why using silk scarves or ties is actually a bad idea. They could cut off circulation. Opt for a bondage materials that can easily be cut away with a medical scissors in time of emergency. For beginners, a set of neoprene cuffs that secure with Velcro should be enough, which leads us to our next point.
Start slower than slow – Say you want to try flogging and a blindfold. Add one to your scene at a time. So, you might let your man flog you without a blindfold, which you're comfortable with. Then, you can add a blindfold the next time. It's also preferable to stick to one fantasy at a time and not change up the script. Although it might not seem like this is a serious step up, it definitely can be overwhelming to try too much at once, especially if you're submitting and have never tried that activity before!
Finally, make sure to stay away from organs and vulnerable flesh whenever you're spanking, flogging or using another impact item. The butt and back of the thighs are fleshy and ideal targets, which can be a lot of fun to spank. But the back offers access to the kidneys, which could be damaged. With longer floggers and whips, practicing on a pillow first helps increase your aim. This is crucial because those tails could wrap around and hurt your partner in places you weren't intended to stimulate!
BDSM FOR BEGINNERS IDEAS
You can engage in all elements of BDSM – bondage and discipline, dominance and submission and sadism and masochism – and many of them overlap, but you can also pick and choose what's good for you. For instance, spanking is relatively tame and perfect for beginner's because all you need is a hand and a willing partner, and it's a good example of discipline. You can use it because you're roleplaying that your man has been naughty. Then, it becomes part of your dominance and submissive roleplay. Or you can simply get your man to spank you because it releases all the right hormones and feels good.
Let's take a look at each part of BDSM.
BONDAGE AND DISCIPLINE
Bondage is when you tie each other up. As we mentioned, lightweight cuffs are perfect for beginner's bondage. A lot of people look for fuzzy handcuffs because they seem more comfortable, but they're often not as comfy as a pair of neoprene or leather cuffs. Cuffs become extra versatile when employed with an under the bed bondage restraint system, which enables you to turn your bedroom into a bondage fantasy!
Blindfolds also count as bondage, and you can add a gag to bind a partner's mouth and prevent him from speaking. Silicone ball gags are good to start, and you'll want to start with one that's smaller. Typically, gags will be labelled as "beginner's" if they're smaller. Pleasuredome offers a varityoff gag-balls that's easy on the jaw, and breathable gags with holes if you're worried about breathing around it.
The discipline part of this acronym refers to physical and mental discipline. In terms of BDSM for beginners, it might mean:
Spanking with a hand

Flogging with a multi-tailed flogger – consider fur, suede or silicone

Throwing a single-tailed whip

Using a paddle – they come with plush sides to ease pain

Denying your partner access to your body or his own

Denying or prolonging orgasm (edging is great fun!)

Playfully pinching or biting your partner
Of course, you know your partner best, so you know what would be an appropriate discipline. And if he's into it, you'll definitely get a rise!
DOMINANCE AND SUBMISSION
While the physical implements of bondage and discipline (including floggers and other items you can read about in this post) are up someone's alley, you don't necessarily have to participate in the B & D if you don't want to. What do we mean by that? Simply that you can engage in dominance and submission without necessarily trying one another up or inflicting pain on your man. In fact, mental restraint and power games can be quite arousing.
Imagine your man is in power, and you're not bound, but you might keep the same position for an extended period of time solely because it pleases you. Do you have the willpower? Does it make you drool to think about being helpless? Or perhaps your heart beats faster when you imagine being your lover's pet. Then D/s might be for you!
SADISM AND MASOCHISM
For a lot of people, they worry that even BDSM for beginner's will be too painful for them to like. They don't understand why someone would want to hurt another person they love. If you're wondering about this, then you've come to the right place! A person who likes receiving pain is known as a masochist, but there's a difference between "bad" and "good" pain. It never feels good to stub your toe, but it can feel good to be spanked, scratched with nails or pinched. And all of these things can be done to different intensities!
On the other hand, you have the sadist, who enjoys seeing her partner "suffering" through this stimulation. She denies his orgasm or looks smoking hot in her outfit, but he can't touch. That's certainly sadistic, and not a hand or toy ever made contact! There is an energy flow between the two that makes BDSM for beginner's exciting in ways you might not have understood before!
But at the end of a scene, you should expect a warm cup of cocoa or water to hydrate, cuddles and perhaps a spanking balm to help soothe skin that suddenly seems to ache, even if it didn't hurt while you were being spanked.
If you're still wondering where to go from here, we suggest talking about your fantasies with your partner! Elements of BDSM likely play a role in one or more of your fantasies, and exploring them can lead to some of the best sex you've ever had!
Although this article might be titled "BDSM for beginners," it's okay if you simply like things less intense! There's no right way to "do" BDSM, and someone who is into more hardcore elements of BDSM isn't better than you. That's why there's truly a flavor of BDSM for everyone, and following these tips to ease into it helps ensure a positive experience for everyone involved.