There are no products to list in this category.

Panty Style Breakdown Guide
Panties are more than just cotton undies and ultra lacy lingerie. Not only can your underwear choices define your mood or what you'll be wearing on top, but something important to keep in mind is the perfect fit. Some panties are high rise, some low and some expose your buns more than others – check out the only panty breakdown you'll need!
The Thong
Thongs are not just stringy little things anymore. Though they have a skinnier waistband with minimal coverage on back side, lingerie designers have made the bands at the hip wider and more comfortable on your curves. Plus, you can say goodbye to visible panty lines ithout sacrificing comfort.
The Cheeky
The Cheeky is exactly what you think it is! It's similar to a bikini with a more exposed back. You can see (below) that the cheeky thong covers a little bit of your cheeks, but isn't a full-on bikini fit. These are perfect to wear with jeans, because you won't get a strong panty line and you have a little more coverage on your lady parts from bulky jean seams.
The Hipster
The hipster panty is set low on the hips, and has wider sides. It's a hybrid between a boyshort and bikini cut. If you like a little extra coverage than what your average bikini panty provides, the hipster is your long lost love.
The Bikini
Bikini panties are the classic panty style. They have skinny sides, and have medium back coverage. These are the ideal panty styles to rock when you hit the gym, because they'll move with you. Instead of fighting off thong chafing, you can focus on getting ripped.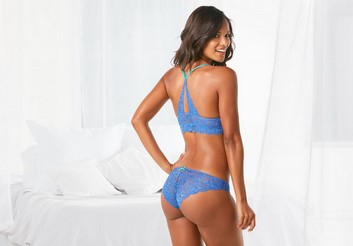 The G-String
G-Strings will give you the least coverage, but will give you a smoother silhouette under tight dresses and pants. They have string sides and a string back, giving your buns the spotlight.